REME HALO WHOLE HOME IN-DUCT AIR PURIFIER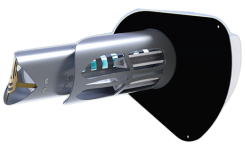 The Reme Halo is Shown to:
Kills up to 99% of viruses, bacteria and mold
Reduces sneeze germs by 99% in the time a sneeze can reach three feet
New zinc ions kill 99% of viruses on surfaces
Dual ionizers to reduce airborne particulates (dust, dander, pollen, mold spores)

Indoor Air Quality Products:
HEPA Air Cleaner
Steam Humidifier
Bypass Humidifier
Media Air Cleaners
Electronic Air Cleaner
Dehumidification Systems
Ultraviolet Treatment Systems
Make Healthy Air Your Mission
Your mission, should you choose to accept, is to protect your family, employees or clientele with the latest, state-of-the-art, air purification system available, the REME-Halo.
Installing directly into your current ducting system it produces UV Light and low levels of hydrogen peroxide to reduce bacteria, odors, mold spores and viruses, including the flu and COVID-19, in the air and on surfaces. And we've assembled the team at Mission Mechanical to assist you with installation and service.
The REME HALO in-duct air purifier utilizes RGF's proprietary Reflective Electro Magnetic Energy technology. Installed into the supply plenum of your existing air conditioning or heating system air ducts, the REME HALO in-duct air purifier produces Hydro-Peroxide plasma that is distributed through the air handler, through the duct system, and into the conditioned living space. Unlike passive air technologies, which need pollutants to pass through the unit for purification or filtration, the REME HALO in-duct air purifier sweeps through your home or business actively purifying pollutants at the source. In addition, the charged plasma induces particles to coagulate or stick together making them bigger and easier for your filter to catch.
Invented to recreate nature's process of purifying the air, it's like bringing fresh outdoor air inside without ever having to open your windows.
Contact Mission Mechanical and Breathe a Little Easier.